The Doria Hotel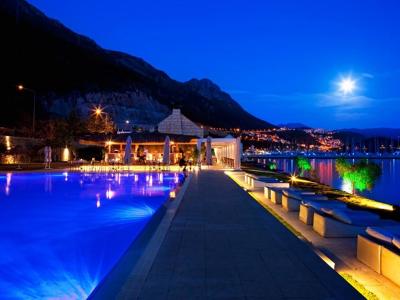 +22 Fotoğraf
Oda Listesi
Seçilen tarih aralığında müsait oda bilgisi bulunamamıştır.

Daha detaylı bilgi için bizimle iletişime geçiniz

0850 707 0 700
Otel Açıklamaları
Genel Özellikler
The Doria is a truly stunning hotel located right on the seafront in the new marina in Kas, just a short stroll from the wonderful choice of boutiques and charming restaurants in the heart of town, if you don't fancy the walk, there is a regular dolmus (bus) service from outside the hotel.
Surrounded by pine clad hillsides and crystal clear sea, this is a utterly sublime spot to relax and watch the boats glide in and out of the pretty marina.
The Doria has just 10 rooms, each with their own pier with comfy sun loungers and direct access down a ladder into the warm Mediterranean waters. Many of the rooms can be interconnected, making them perfect for families, the Superior Rooms boats a large terrace with a Balinese style daybed and the Deluxe Rooms have the luxury of an outdoor Jacuzzi on the terrace.  Even from inside the stylish rooms, the floor to ceiling windows ensure that you also benefit from the spectacular surrounding scenery from all angles.
Float around the large infinity pool, or take a dip in the clear blue sea from the hotel's private beach, with sand from Patara Beach – less than an hour away!
There is a wonderful restaurant at the Doria, serving a delicious and varied menu of local and international cuisine, and you are just 20 minutes stroll from the centre of Kas with its abundance of choice from simple tavernas to upmarket restaurants plus a couple of restaurants are closer by; just a 2 minute stroll down the marina.
Oda Özellikleri
The Doria is comprised of just 10 stunning rooms; Sea View Rooms, Superior Rooms with Balinese style daybed, and Deluxe Rooms with Jacuzzi tub on the terrace.  All rooms have a private pier with a ladder leading straight into the sea.  Some of these rooms can be interconnected making them ideal for larger groups and families.
All of the air-conditioned rooms have en-suite shower rooms,  bathrobes and slippers, fine cotton bed linen and tea and coffee making facilities.